The Real and its Double

Drawing of ​new specific site sculpture project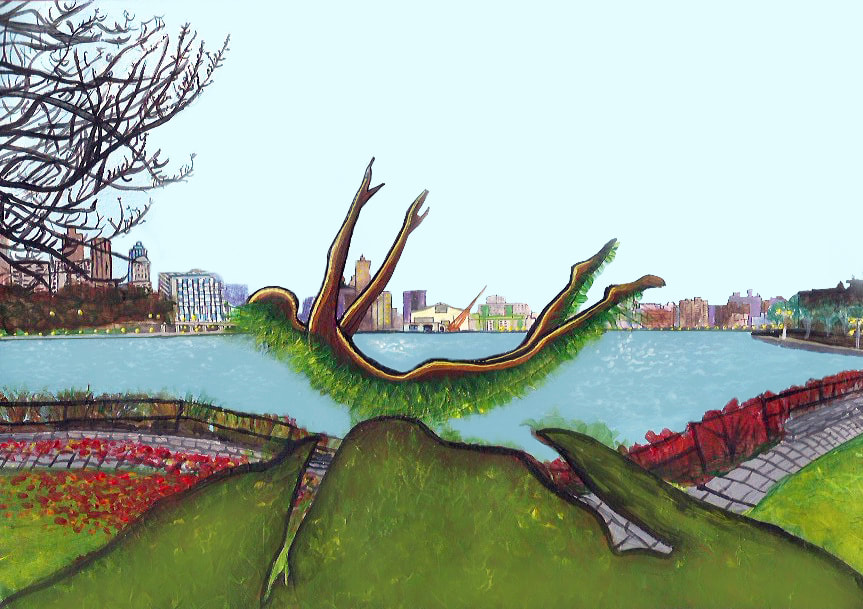 The Real and its Double is a site specific project recently conceived for the Socrates Sculpture Park Emerging Artist Fellowship. This sculpture is an extraction of an archetypal body laying on top of a hill and reversed 180 degrees; a body that is dislocated and unresolved yet somehow graceful.

This piece explores themes of provenance, growth, and diaspora. The negative space of the collapsing body merges with its positive duplicate, creating a tension that allows a convergence between each, disrupting the viewer's perception and temporality. Is it floating or colliding? This piece offers a landing point to meditate on notions of assimilation, cultural multiplicity, and progression.

This project draws from Clement Rosset philosophy to create an imagined representation of the self and its double. The concept of duplicity developed in Rosset's The Real and its Double claims that the return to oneself is not an escape from the here to the elsewhere, but a convergence, an almost magical movement from anywhere else to the here.

I was raised in Paris to a matriarchal Berber-Algerian family, which drives my need as an artist to explore implications of place, heritage, cultural structures, and their reverberations. The core of my art practice addresses the idea of the dislocated body and resultant disruptions in the mundane world. The body was always of notable interest to me; an outer space we inhabit that is subjected to various power structures. This project embraces and reconciles the gap from an extraction to its subversion into a rootless growing figure. What is the price of assimilating to a cultural identity? What emerges after a people have had their culture stripped away?

The Real and its Double is the natural blend and evolution of my sculptural practice and interest in addressing notions of place, heritage and cultural structures. I have been working with earth and grass for site specific projects in Sculpture Parks since 2008. British Scalp Proclamation was a project exhibited at the Maubuisson Abbey art center, France for Chapitre V, Le Voyage des Plantes.

A year later I was invited to do a second site specific project at the Guerignault Sculpture Park for the exhibition, Sans Conservateur. My sculptural practice has been highly influenced by the Sentier de Charme, a sculpture by Giuseppe Penone at the French Sculpture Park of Domaine de Kerguéhennec. I enjoy doing outdoor sculpture projects because they allow for a larger immersion in a piece, with the total landscape as a source of material to further engage the viewer.